Gar Randall
Following Governor Dummer, I went to M.I.T. and studied chemical engineering. I heard and saw a lot of things during four years in Cambridge and Boston. For example, during the "Great Northeast Blackout" on November 9, 1965, I happened to watch, from the Harvard (Mass. Ave.) Bridge over the Charles River, the cityscape from Kenmore Square to Beacon Hill flicker twice and then descend into total darkness.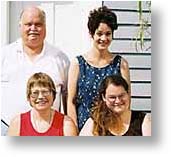 Sophomore year, a fraternity brother fixed me up with a Radcliffe student (yes, Virginia, Harvard women were Radcliffe students in those days) who became my wife in June of 1966 when we both graduated, got married, and moved to southern Cook County. Cindy and I will celebrate our 36th anniversary a few days after this year's reunion.
In Chicago, I worked for Sinclair Oil Corp. (remember the green dinosaur?) while Cindy picked up an M.A.T. at U.C. and taught in the local junior college. She got her teaching job (as an intern and later as a regular faculty member) not because of her Harvard or Chicago credentials, but because she had gone to high school in Yankton, South Dakota, the alma mater of the acting college president. (And for what it's worth, of Tom Brokaw.)
We also lived through the Great Chicago Snow of February 1967, and, from a safe distance, the Democratic National Convention of 1968. Later, we decided to migrate east and raise a family in New England. So we chose Newburyport, a previously depressed blue collar town which was beginning the renewal process that would turn it upscale a couple of notches.
After picking up an M.S. in chemical engineering, I began working in 1972 for Distrigas, a pioneering company importing liquefied natural gas to a terminal in Everett, MA. This project turned out to be about 30 years ahead of its time, but because New England is at the far end of the gas supply pipeline system, supplemental gas has had a local market and the company managed to stay in business through some tough times. I left the company in 1991, and in 2000 the old Boston company (Cabot Corporation) that had started Distrigas in 1969 sold it to a Belgian and French company, Tractebel. Since the gas distribution business in Belgium has been named Distrigas for years, this is the second company with that name to be owned by Tractebel.
We have two daughters, Jessica, born in 1971 and Beth, born in 1975. In between, we watched the senate Watergate hearings. As a family of four, we tunneled out the back door after the "Blizzard of '78," returning to watch Governor Dukakis wearing his sweater and telling us to stay off the roads for a week. In the summer of 1978 I got my first passport and did my first overseas travel, beginning my observation of foreign places by visiting Algeria for three weeks during Ramadan. This being my first opportunity to use what I learned in Roy Ohrn's classes for real, I found that I could in fact speak a form of elementary French, and that the Algerians were less inclined to laugh at my French than the Parisians.
Having picked up the filthy habit in college, in 1984 I gave up smoking for good. It cleared up a rasp in my throat and enabled me to smell diesel fumes on the highway.
On two occasions, we took in foreign exchange students for a full academic year. The first was Fernando, a Spanish boy from Zaragoza (and yes, I can pronounce that in Castilian). He was good with languages (ours and a couple of his), had a good sense of humor, and was a good soccer player. We kept in touch a little bit by mail after he left, but neither he nor we were e-mail users until it was too late, and we are out of touch. The second was Circe, a German girl from Hamburg. She was in the US when the Berlin Wall fell. She has stayed in touch, and she made sure we learned how to use e-mail when she visited us in 1992, two years after her exchange year. She has visited three more times, has sent other friends to visit us, and finally we made it to Hamburg in April 2001 to celebrate her receiving her law degree. She is in many ways like a third daughter.
High school soccer managed to cause ACL problems with both daughters, and so our "soccer mom" minivan was used to transport cellos, violins, and theater supplies more than athletes. Cindy and I took the girls on several trips to Europe, and Jessica spent her high school senior year in Madrid. I wouldn't really call either daughter "international" in outlook, but I have to believe they are more so than if we had substituted multiple excursions to Disney World. Jessica went on Eugene Lang College in NYC (The New School University) and is now a counselor working with deinstitutionalized mentally ill clients. Beth attended Occidental College in LA and now lives locally selling books and acting with a local troupe. We have no grandchildren and no knowledge of what the future may hold.
I have attended no M.I.T. reunions, keeping in touch with a dozen or two fraternity brothers instead. I visited a few GDA Alumni events in the 70s and saw many members of the class of '62 during our 25th in 1987. I see Pete Kelly in his store frequently.
In 1992 my professional life became that of a consulting engineer. The subject matter is the same -- bulk liquefied gases -- and most of the clients are facilities that lack full engineering capabilities. I am essentially self-employed, although my partner and I present our services together, as can be seen at www.lgaengineering.com. Cindy keeps herself busy with music and communications. She plays viola in a string quartet (weddings and bar mitzvahs) and a community orchestra and has published newsletters and developed web sites for a couple of organizations. Given the nature of our activities, it is hard to conceive of being anything but a two-computer networked household. That's a change since 1962!
I am looking forward to seeing my classmates this June.

---

Date: Tue, 16 Apr 2002 15:20:44 -0400
To: Tay Vaughan (tay@timestream.com)
From: George Randall (gar@alum.mit.edu)
Subject: Biography

Tay,

Well, some classmates have sent genuine short biographical sketches. Then I got a call last Friday from Ham Agnew, who wanted to chat in advance of seeing people. He also suggested I do more of a bio than the shortened professional resume on the LGA website.

So, here I am with bio and family pictures. The bio should be a text attachment, unless my email software decided to absorb the attachment into the message. There is family photo in two sizes (587 x 555 pixels, 37 kB optimized jpg; 150 x 135 pixel, 5 kB). Names, L to R: seated Cindy, Beth. standing: Gar, Jessica.

The bio mentions my business website in the last paragraph, so I would of course appreciate it if you make it into a link.

If Ham calls some other people, maybe you will get a few more bios. That would help. Maybe I'll chide a couple of folks. Or we could encourage Tarbs to make up bios for everyone -- he didn't do too badly with his made up one-liners in the Winter Archon.

Thanks for doing this

Gar
---