Bob MacLaughlin
In 1997 my wife, Kit Pfeiffer, was on her way to some meeting down in Massachusetts when she drove by the sign for GDA. She turned around and headed straight to the alumni office where, like a ruthless bounty hunter, she ended my 35 years of taking it on the lam. "It's the perfect time for you to come out of hiding," my beloved said to me later, justifying her treachery. "There's a reunion in two months."
In the early years, my excuse for staying away was that whatever the requisite level of success for Govie grads was, I hadn't reached it. Besides, I reasoned, I hadn't done all that well at GDA to begin with. ("The JV hockey team will continue to improve in previous years," I declared at awards night.) So, who'd miss me? By the time I'd gotten by that one, so many years had passed that I felt sheepish about my disappearance and continued to dig the hole deeper.
So, actually, I was relieved by Kit's turning me in, and we both had a great time at Reunion '97. In fact, I still have the hat, which does a terrific job of protecting my bald head.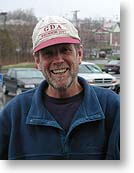 After we all left South Byfield, I went to school in Ohio, then Mexico, and finally pried a journalism degree away from Cal State Long Beach. My first job after that was as sports editor for a small daily paper known to its readers as The Fish Wrapper, and from there I had stints as PR guy for a hospital, trailer writer for CBS, editor of a karate magazine, and copywriter for various ad agencies. After I moved back East in 1979 and bought a place in Maine, I retired for awhile (a habit of mine) and worked mostly on granola causes like saving the world from nuclear mayhem and such. Eventually, I sold my Volkswagen Bus to a kid in town and opened my own tiny ad agency for clients whose goals and values I could support.
Six years ago, while my dad was shadow-boxing with Alzheimer's out in California, I closed the office and took my major accounts home to my den where I continue to write for print and broadcast. Even get to do some goofy voice work. The moved allowed me to spend larger chunks of time out west with Dad before he died, and I'm so glad I did. It was an amazing experience, and once I learned not to refute his view of reality, we had many wonderful moments together and visited some great planets.
Nevertheless, my favorite place in the universe is still Maine. Kit and I are renting a little house in Searsmont, just inland from Camden and Belfast in the midcoast region. Whereas the talented Tay Vaughan has been working feverishly away on his magnificent restoration of an old farmhouse about six miles away, we have been sloughing off. When something breaks or leaks, we call the landlady (a relative) and then head out the door to hike, run or kayak. We are surrounded by woods, trails, lakes and oceans. There is plenty of land for our garden and funky greenhouse, the latter being a collection of abandoned windows that supplies us with fresh greens year round. The woods supply us with plenty of firewood, but we can flip on the oil heat when we get lazy or take off on a trip. We've backpacked in New Zealand, the Grand Canyon, the Chisos Mountains in Texas, and of course in Maine. Last month, we kayak-camped among the wild horses of Assateague Island, which straddles the Maryland/Virginia border. Kit and I have been together for six years, married for four come August. We were neighbors, running buddies and fellow owners of old Maine farmhouses back in the late '70s, then stumbled across each other again in the '90s during a moment when neither of us was married to anybody else. Romance soon happened and has continued to deepen. I am very, very lucky.
I still dig sports, both as a spectator and a participant. I coached Little League for a dozen years and before that, in 1977, started jogging. I had just quit smoking. Within two months, I worked up to an entire mile without stopping! Then somebody told me about 10ks, and so I did one of those. Then a marathon. And when I was about to turn 40, I remembered having written a piece for The Fish Wrapper about a guy who ran 40 miles on his 40th birthday. (I fell climbing the fence around the track where he was running and crushed my crush-proof box of Marlboros, then puked after conducting an interview at seven minutes a mile.) So, in 1984, I jogged around town a couple times and did my own 40. The following year, I entered a 24-hour race and waddled 101 miles. After that, I crawled back onto the sofa and watched the Red Sox until six months before my 50th when a friend shamed me into getting off my butt again. I trained through the winter and survived another March birthday run, though it wasn't pretty. Haven't decided what I'll do at 60, but I'm trying to stay in shape ALL the time now, just in case.
Enough already. As someday said in a book once, the story of my life is fascinating and some of it's even true. Especially the parts I left out.
---