John Davagian

After GDA I spent four years at Lehigh University getting a BA in English Literature. After graduation in 1966, I married Joyce (Najarian) and she hasn't thrown me out ... yet! Next was Boston University School of Law - passed the Massachusetts Bar Exam in 1969.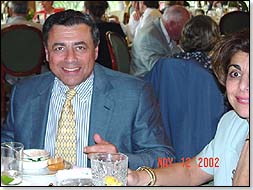 Spent the next 28 years running the family construction business - building bridges, piers, wharfs and the like across New England. Sold the business in 1997. I now practice law from an office in Sudbury, Massachusetts specializing in construction, commercial real estate and employment law.
Personally, we have two children: Jennifer - 32, married with one grandson; John, III - 29 will be married in July. We've had a home in Concord, MA for 30 years and love it here.
Managed to do a few other things along the way:
- Chairman of the Labor Committee for the Foundation and Marine Contractors Assn. of New England, Inc.
- Former Trustee of the Massachusetts Regional Community College System
- Massachusetts Youth Soccer Association, Hall of Fame
- Past President, Council of Armenian Executives
Current passion: Golf! (I'm trying not to get too good at it! I know that Tiger needs the money!)
All and all, it has been a great and good life. I must thank GDA and all of you for broadening my horizons and giving me the opportunity to experience many wonderful things. It was there that it all began for a 13 year old kid who never spent a night away from family before heading off to South Byfield in the fall of 1958. As I look back now, we were all so different, yet very much alike. I was blessed with a wonderful family, great teachers and good friends like all of you.
Look forward to seeing all of you at the reunion.
Best Regards, John Davagian
---