Peter Buck

After Governor Dummer, I spent 4 years at the University of Virginia. I thought I had eluded the draft, but I got my "Greetings from the President" letter in early spring '66. I rushed off to apply for Navy OCS and got into the September class.

I spent 3 years in the Navy on the East coast as operations officer on an ocean going minesweeper. It was like living on a cork at sea. It was slow and just bobbed and rocked. I spent most of my time in the Navy seasick.

I joined Electronic Data Systems in January 1970 and spent the next almost 30 years with Ross Perot and the boys retiring in October 1999. I enjoyed my career with EDS. Started out in New York City and then spent time in Boston, Dallas, Camp Hill PA, Iran, Kuwait, London, finishing up in the Washington, DC area.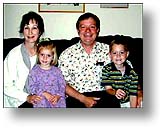 Lynda, my wife of 15 years, and I live in Waterford, Virginia. We have started a video/film making and photography business that is keeping us busy. We have 3 children between us. Our sons live in Portland OR and Denver, and our daughter is nearby in Richmond. We have a sweet grandson and a sweet granddaughter.
---